that dynamo at DirtyFootprints Studio, Connie Hozvicka has gathered together some marvellous maevens of mixed media (and other art but i couldn't resist the alliteration) and created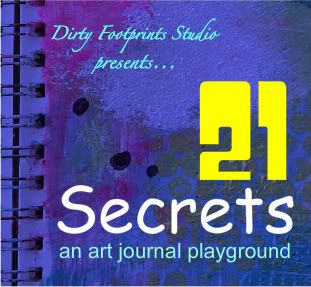 it is an amazing collection of spirited and talented hearts who will open their passion and get your art journaling juices flowing
just go to the link below and see what i mean
http://www.dirtyfootprintsworkshops.com/2008/09/21-secrets-art-journal-playground.html
OK CONFESSION
I am not just writing about this because i am a Connie-o-phile - any one who reads this blog regularly will know that already...
I am writing this because it gives me the chance to enter the competition to win two places on the workshop
one for me
and one for one of you -
YAHOOOOOOO
So part of the entry is that i get to talk about the 3 people i really wanna learn from - now that is just too stinkin hard - mainly because there are friends teaching on there from BIG and of course i wanna learn from them - they are juicy and gorgeous and their ideas are remarkable, and i like hanging out with them.... so that makes me biased so i will go for someone else (sorry my honeys but i had to choose)
and i choose...
JET-SET JOURNALING: SOUL JOURNAL STYLE
TRAVEL JOURNALING FOR ARTISTS ON THE GO
Sarah Whitmire :: Soul Journaling
(we are going to the South Island for the Christmas hols this year and i have already been thinking about what toys the girls will need to leave behind to get my art gear in the van!! :-P kidding (just))
EVERYTHING BUT THE KITCHEN SINK:
USING COMMON HOUSEHOLD ITEMS IN YOUR ART JOURNAL
Heidi Newstrand-Dilley :: Heidiology
Well i am an old hippy at heart so i am all for making the old and used beautiful... i know people say upcycling nowadays but hey - i am an old hippy!
and lastly
CONVERSATIONS WITH SELF: LETTERS FROM YOUR INNER CHILD
Angelia Thompson :: Angelia's Art Journals
i had a very powerful encounter with my inner small Jane yesterday and i think she has a lot (see how i did that Meg??) to say... and i wanna hear her...
so there it is - our chance to win
also if we don't win it is still our chance to join up with what promises to be something bloody marvellous....
cross your fingers